Here you will find information about the teachers and practitioners who have contributed content to Digital Pilgrim, as well as the spiritual traditions and lineages in which they have trained and practiced.
Himalayan Tradition and the Lineage of Swami Rama
"The Himalayan Tradition of Yoga Meditation combines the wisdom of Patanjali's Yoga-Sutras, the philosophy and practices of the Tantras, and the specific oral instructions and initiatory experiences passed on by a long line of saints and Yoga masters whose names may or may not be known. The Tradition is not an intellectual combining of three unrelated elements, but a unified system in which all the parts are integrally linked." ( Swami Veda Bharati, 2018. The Himalayan Tradition of Yoga Meditation. 1st ed. India: Himalayan Yoga Publications Trust.)
About Swami Rama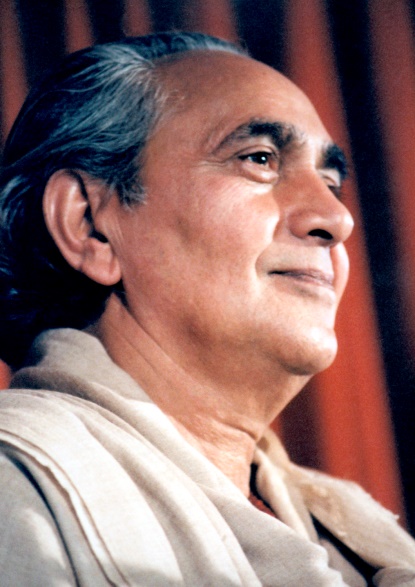 "Swami Rama was born in the Himalayas and raised by his spiritual master in the legendary Himalayan cave monasteries where countless generations of yogis have been trained and initiated into the deepest mysteries of the sacred science of yoga. A monk in the Shankaracharya order, he held the highest position of Shankaracharya, which he later renounced.
Swami Rama pioneered many early scientific studies in measuring the physiological correlates of the yogi's internal experiences using modern scientific equipment. A philosopher and author of over 40 books, Swami Rama was a master of many arts including poetry, music, architecture, sculpture, painting and martial arts. Swami Rama was a multifaceted personality and truly beyond description; a spiritual master and master of the art of living.
A great philanthropist, Swami Rama founded many charitable organizations and teaching centres such as the Himalayan Institute as well as the Himalayan Institute Hospital Trust.
Swami Rama left many disciples around the world who carry on various parts of his work. He remains in their hearts as one who truly personifies and represents the perennial lineage of Himalayan masters." (Swami Veda Bharati, 2008. Night Birds. 1st ed. India: Himalayan Yoga Publications Trust.)
About Swami Veda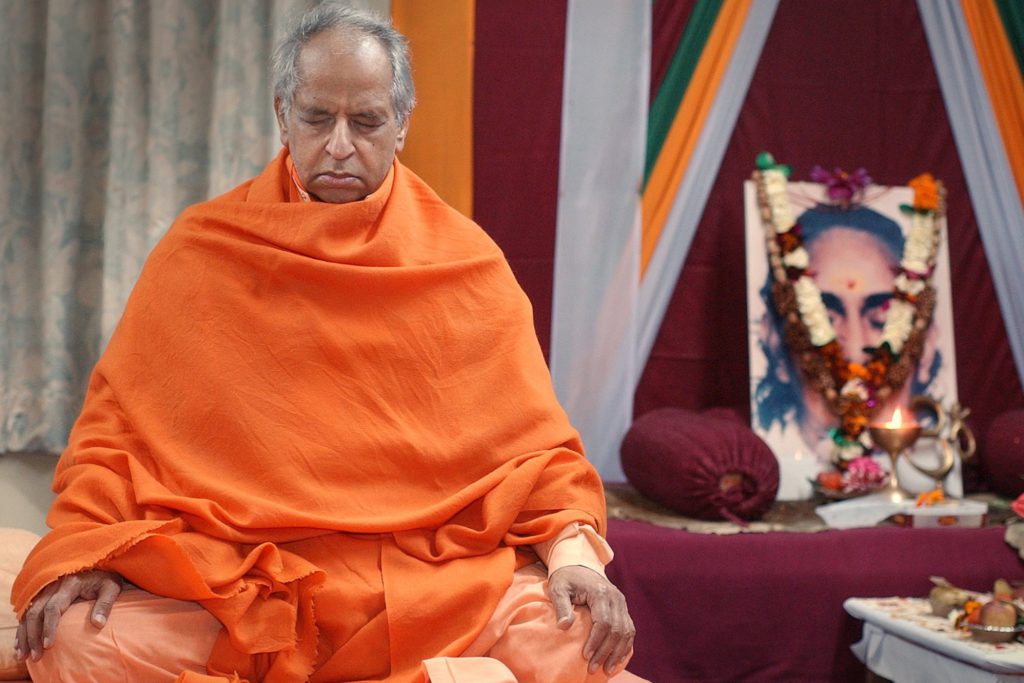 "Mahamandaleshwar Sri Swami Veda Bharati (1933- July 14, 2015), was a rare Sanskrit scholar of our time, unsurpassed in his profound depth of knowledge, philosophy and practice of Meditation. He was born in a Sanskrit-speaking family and raised in the centuries old Vedic tradition. He taught the Patañjali's Yoga-sūtras for the first time at the early age of 9 and the Vedas from age 11. Having never attended any school, he received his M.A. from the University of London and a D.Litt. from the University of Utrecht in the Netherlands.
From 1952-1967, he spread the Yogic and Vedic teachings in many parts of the world, including Africa and the West Indies. In 1969, he received the highest initiations into the mysteries of Meditation from his Guru Swami Rama of the Himalayas who linked him to the sacred lineage of the Himalayan Yogis.
Thereafter he established and guided Meditation groups and centers in all parts of the world. He had access to 17 languages and taught Meditation in all of the major languages of the world and to followers of all religions.
In continuation with the oral tradition of the living lineage of the Himalayan Sages, Swami Veda taught: "योगः समाधिः | yogaḥ samādhiḥ | Yoga = samadhi | Yoga [is] samadhi. He proposed that the entire yoga science must be studied and practiced on the basis of this definition of yoga. All other definitions are subservient to it. He revealed the authentic teachings of Classical Yoga through his 1500 page commentaries on the (first two chapters) Yoga-Sutras. This commentary has been hailed among scholars and practitioners both as the most authentic and authoritative.
He has recorded more than 3,500 hours of courses on all aspects of meditation, its texts, and philosophical systems apart from teaching the ancient texts like the Vedas, Upanishads, and the Bhagavad Gita in an experiential context for meditation. Following in the footsteps of his Guru, he maintained a keen interest in the scientific studies of yoga mediation and subjected himself to a number of researches in the field of Neurophysiology of the Meditative states.
Swami Veda Bharati emphasized the universality of yoga as a science, which transcends chronological time, geographical boundaries, religious discrimination, and manmade sectarianism. Although he always liked to keep a low profile, he was well known for his teaching in different communities and cultures all over the world and for his expertise in instructing students in accordance with their own religion-philosophical background. During his lifetime, he participated in numerous interfaith dialogues, activities, and conferences with an aim of improving understanding among various religions. He found the experience of meditation to be the common ground among all religions. Prepared on the occasion of the United Nations 2000 World Peace Summit of Leaders in Religion and Spirituality, his short work, "Unifying Streams in Religions," provides a fresh perspective for bringing the different faiths closer together.
In 2002, he founded Swami Rama Sadhaka Grama in Rishikesh, which houses the headquarters of the Association of Himalayan Yoga Meditation Societies International (AHYMSIN) and serves as the centre for his global network among nearly 100 groups in 26 different countries; spreading the teachings of the Himalayan Tradition. We can best repay his extra-ordinary efforts by availing ourselves of the fruits of his experiential teachings to further our own yogic practice for our own enlightenment and the welfare of all." (Swami Veda Bharati, 2008. Night Birds. 1st ed. India: Himalayan Yoga Publications Trust.)
Some of the teachers who contribute to Digital Pilgrim…
About John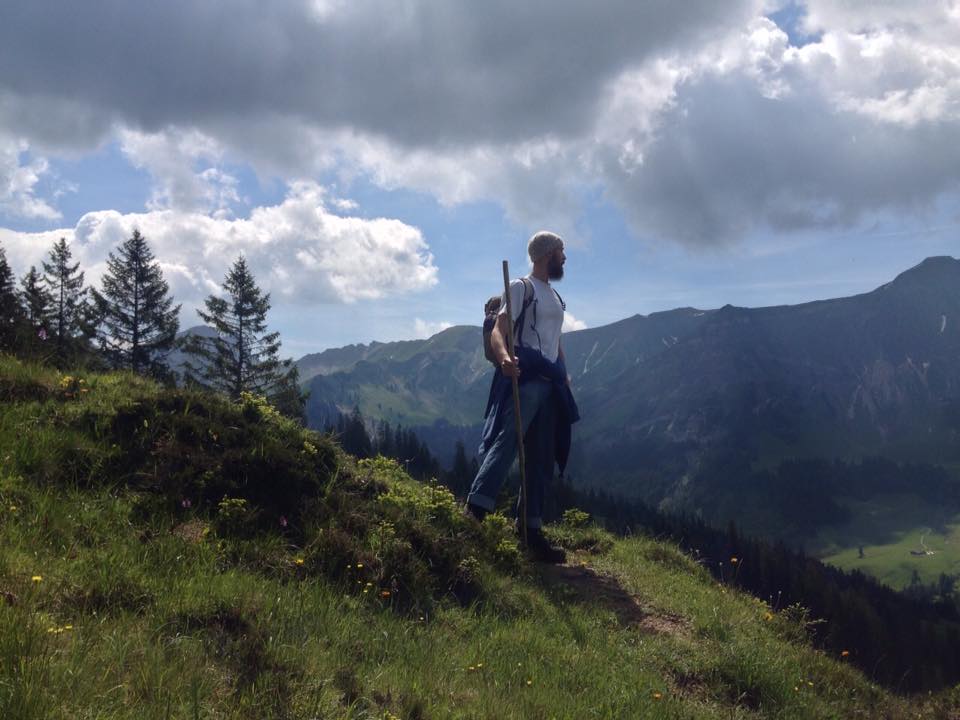 I had the good fortune to grow up in a family of meditation practitioners. Both my mother and father quietly devoted time daily to their meditation and spiritual practice while leading ordinary lives. As a young person, I was trained in the basics of yoga meditation by my parents and was also inspired to practice traditional martial arts. I devoted much time to this from my early teens through to my mid twenties and along the way also developed a personal practice of the yoga physical disciplines.
Encouraged by family to study and build a career, I graduated with a degree in nuclear medicine and worked in this field for several years in the UK. However, an increasing longing to visit the Himalayas and practice meditation full time finally caused me to leave my career and travel to India. Arriving in Rishikesh at 29 years of age, I very quickly chanced to meet the meditation master, Swami Veda Bharati, who had trained my parents more than three decades previously. I resolved to stay in his ashram (Swami Rama Sadhaka Grama, named after his master).
I lived in this ashram for ten years, devoting my time to meditation and other spiritual practices, as well as studying yoga philosophy and the other philosophical systems of India. Later I was also involved in teaching in ashram workshops and programmes. From the beginning of my third year of residence, I was also given the opportunity to serve as personal assistant to Swami Veda, which remains one of the greatest honours and experiences of my life.
I now live with my wife and children and spend much time traveling to teach internationally as well as working to edit and make available the unpublished teachings of Swami Veda Bharati.
About Dr. Stephen Parker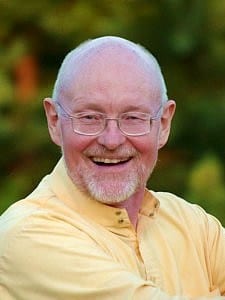 Dr. Stephen Parker was initiated in the Himalayan Yoga tradition by Swami Veda Bharati and was given the initiate name Stoma in 1971. Among the first teachers certified by the Himalayan International Teachers' Association, H.I.T.A., he began teaching hatha-yoga in 1974. During that time he also studied Sanskrit with Swami Veda and South Asian languages and culture for his B.A. at the University of Minnesota. Stoma is an Experienced Registered Yoga Teacher at the 500 hour level of the Yoga Alliance (E-RYT 500). A member of the International Association of Y.T., he serves on the faculties of the Meditation Center in Minneapolis and the Sadhaka Gram ashram in Rishikesh, India. He is also a senior faculty member of the Himalayan Yoga Tradition Teachers' Training Program. He has lectured on yoga, meditation, yoga psychology and spiritual practice in the U.S. and Canada as well as in Carribean countries, Holland, Italy, Austria, Hungary, Lithuania, South Africa, Korea, Hong Kong and India. In 2004 he helped originate and teach the first course on yoga in an American medical school at the University of Minnesota Academic Medical Center. In 2007 he received preliminary vows of renunciation from Swami Veda and the Shankaracharya of Karvirapitha.
Stoma has been a licensed psychologist in private practice in St. Paul, MN since 1985. He also serves as Adjunct Assistant School Professor of Counseling and Psychological Services at Saint Mary's University of Minnesota and Adjunct Assistant Professor in the Graduate School of Professional Psychology at the University of St. Thomas in Minneapolis, MN. He teaches on the faculty of the Introductory Workshops of the Minnesota Society of Clinical Hypnosis. In addition to authoring journal articles and book chapters, Dr. Parker edited volume two of Swami Veda's definitive scholarly work on the Yoga-sutras of Patanjali and he has been a peer review editor for the Journal of Men's Studies, the American Journal of Orthopsychiatry, the International Journal of Yoga T. and Yoga Mimamsa. He is also the author of Clearing the Path, The Yoga Way to a Clear and Pleasant Mind: Yoga, Neuroscience and Emotion (2017) published by AHYMSA publishers and distributed by Lotus Press.
Pierre Lefebvre (Pandit Priyadarshan)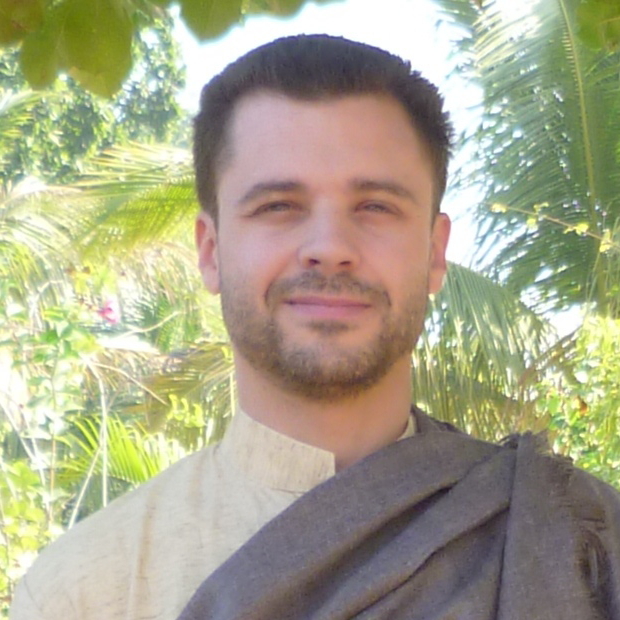 Originally from Canada, Pierre completed a Master's degree in classical guitar from the University of Montreal. He has also received training in Balinese and North Indian classical music.
His passion for yoga brought Pierre to India, where he joined the Dhyana Gurukulam at Swami Rama Sadhaka Grama in 2005. He has studied at SRSG, with Swami Veda Bharati and many other senior teachers of the Himalayan Yoga Tradition, for over twelve years. During his studies in India, he could deepen his knowledge and practices of the different aspects of yoga; the postures, breathing practices, relaxation, meditation, philosophy and Sanskrit.
Pierre has been serving Swami Veda's mission, AHYMSIN and Sadhaka Grama in several ways over the years. He was the Himalayan Yoga Tradition – Teacher Training Program (HYT-TTP) Rishikesh director from the creation of AHYMSIN in 2007 and continues to serve HYT-TTP until today. He is currently a member of AHYMSIN's Executive Committee and Board of Directors. Swami Veda granted him the title of pandit in 2014, naming him Priyadarshan.
Now teaching the various aspects of yoga in North and South America, Europe, Africa and Asia. Pandit Priyadarshan is trying to convey his passion for yoga by his very personal style of teaching acquired during his years of study in India. His approach is very warm and focused on individuals, with special attention to each person. He wishes to get as many people as possible to benefit from the many merits of yoga.
Pierre is certified as Yoga Acharya by the Fédération Francophone de Yoga and holds the ERYT-500 recognition by Yoga Alliance.